Connecting Get Reviews to Social Accounts
Connecting your social accounts to Get Reviews offers these benefits: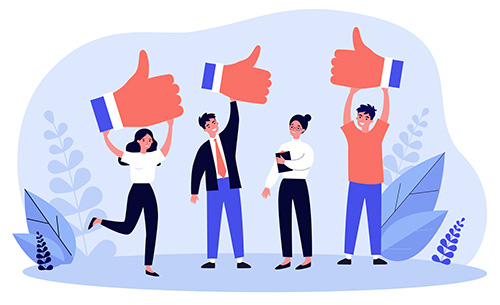 Facebook reviews will be pulled into your reviews feed
Ability to automatically share incoming positive reviews on Facebook or Twitter
Ability to respond directly to reviews or tweets directly from your dashboard.
Messages from Facebook, Instagram, and Google will come directly into your Get Reviews Inbox
Increased reporting for your Google business listing
Note: This is a separate connection than your website dashboard social connection. Even if your social accounts are already connected in your website dashboard, you still need to connect your social sites in the Reviews dashboard to get the maximum benefit.
---
How to Connect
In your Reviews dashboard, click on 'Settings' and scroll down to 'Integrations'. Here, you'll see all the accounts available for you to connect.

Click into the account you want to connect. If your connection is already complete, you'll see your business listed with a green dot icon next to it, like this:

If you still need to connect, you'll see a mostly blank screen with a blue 'Connect' button. Click 'Connect'.
You'll see a pop up asking you to log in and allow permission for Get Reviews to connect with your social site. Follow through the prompts to allow the connection.
You'll see a success message once the connection is complete
---
Notes on Facebook connections
When connecting to Facebook, the first prompt box that shows may ask you to log into your personal account. (Sometimes this isn't the case, it just depends on how your personal and business pages are connected within Facebook.)
Go ahead and log in through your personal account. This won't connect to your personal page – it just needs to go through that step in order to find your business page.
After logging in through your personal page, you'll see the request to connect to your business Facebook page. Click to allow this connection and you're all set!

Notes on Instagram connections
Connecting your Instagram account allows messages from Instagram to be pulled into your Get Reviews Inbox, and allows you to reply to those messages from the Inbox.
You can only connect a Business or Creator Instagram account with Get Reviews. Personal Instagram accounts cannot be integrated.
Connect Your Instagram Account to Your Facebook Account
Since Instagram is owned by Facebook (Meta), those accounts are all connected and you'll need to allow the Instagram connection by going through your Facebook account.
Go to your Facebook page, under 'Page Settings', you will view an option called 'Instagram' and click on 'Connect Account'. 

Once the Instagram account is connected to Facebook, go to your Facebook page inbox and you can view all your Instagram messages synchronized under the same inbox, this indicates the Instagram account has been successfully synchronized with your Facebook page.
Connect Instagram to Get Reviews
From your reviews dashboard, click into settings > integrations > Instagram and you'll see these four steps listed: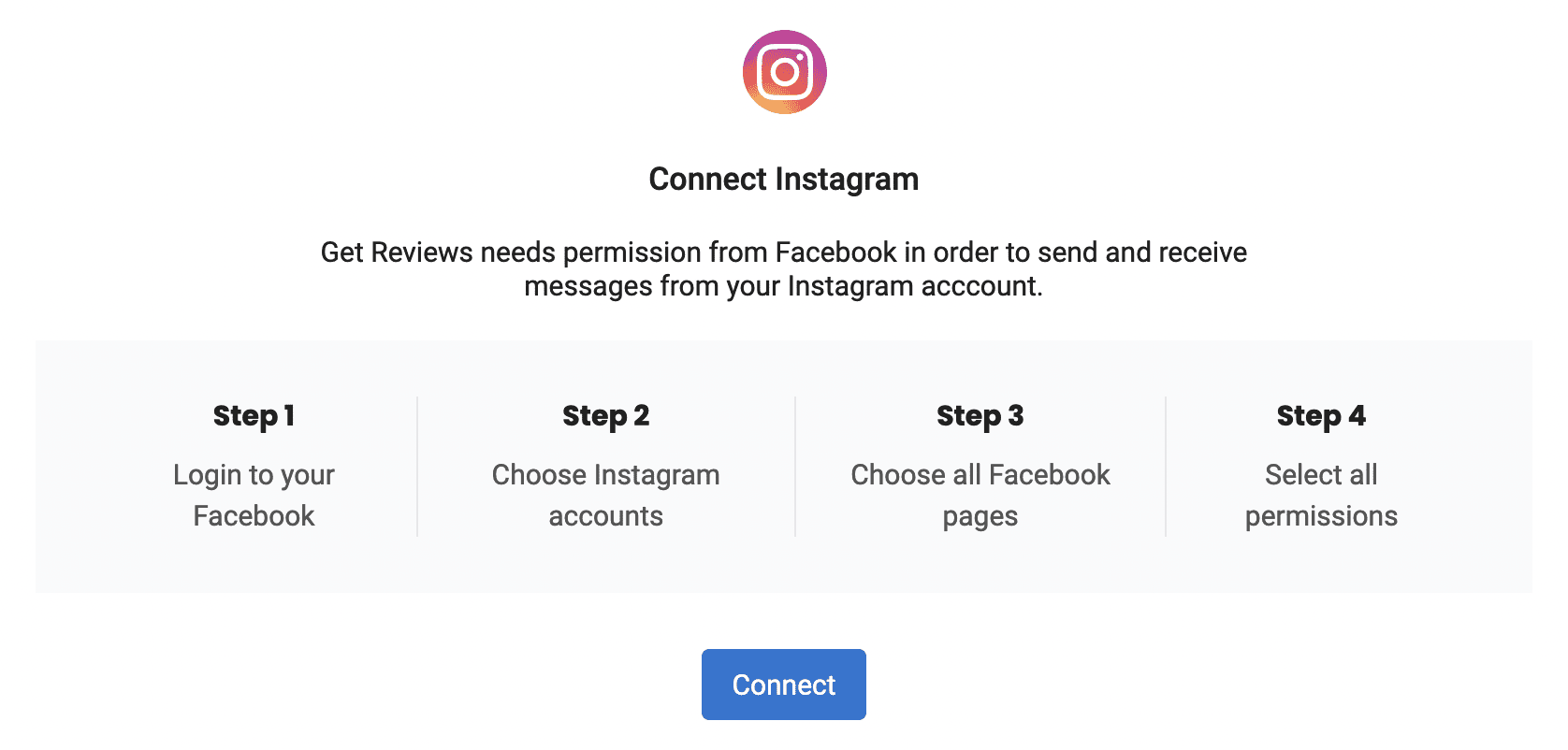 Click 'Connect' and a prompt box will pop up to walk you through these steps.
Step 1: You will be asked to log into your Facebook account and if you've already logged in, then you can click on 'Continue' to carry on with your logged-in account.
Step 2: Select your Instagram Business/Creator accounts you wish to integrate with Get Reviews and click on 'Next'.
Step 3: Select the Facebook page that has been already integrated with your Get Reviews account and click 'Next'.
Step 4: Allow access to page permissions, all the permissions displayed should be provided access to, and click on 'Done'.
A message will confirm the integration setup is complete. Click on 'OK' to finish the setup within Get Reviews.

---