Your Dashboard Overview
The View from Your Dashboard
The options on the left side of the screen will help you navigate your dashboard. Below are descriptions of the features that can be found and updated in each of these sections.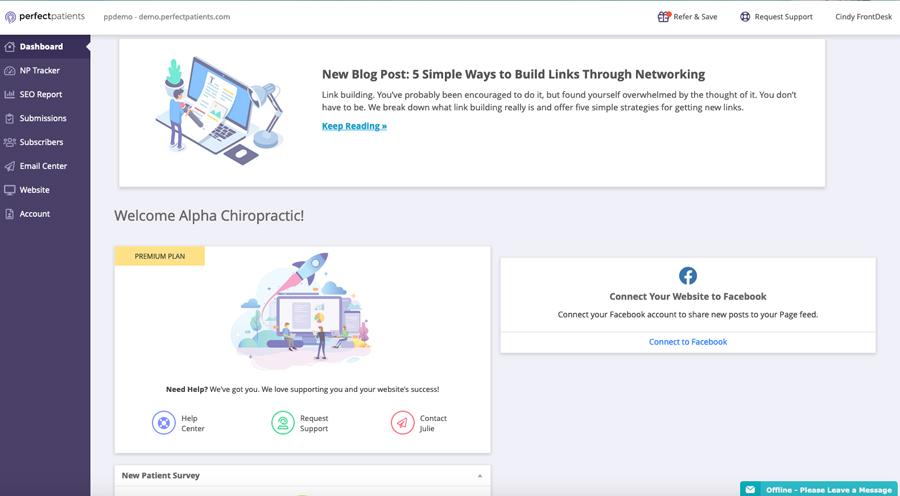 ---
Dashboard
The dashboard is the administrative area, also known as the back end of your website. Here you can manage your website pages, subscribers and send mass emails to your patients.
---
SEO Report
Your SEO Report gives you vital insights to your website's performance.
Understanding your SEO Report »
SEO Report Video »
---
Submissions
New Patient Survey: (Standard and Premium) This screen shows the results of your new patient survey. This is important feedback that can reveal training opportunities and other ways to make each new patient's first (and most lasting) impression positive and worthy of a referral.
Website Forms: This is where you can find a copy of the emails sent through your website Request Appointment and Contact Us forms.
Submissions Tab Video»
---
Subscribers
Subscribers are your new, current, existing or potential patients. Adding new subscribers to your dashboard allows you to easily interact with them through emails, blog post, and more.
---
Email Center
Your email center gives you an overview of all emails that have been sent or received via your website dashboard.
Email
The Send Email option is a do-it-yourself feature, available to all Premium and Standard plan clients. You can send bulk emails to your subscribers or a single email to just one subscriber; you can create templates, add PS messages and view archived emails.
Templates
Your website comes pre-loaded with helpful email templates for all sorts of events and occasions. Each template is fully customizable so you can edit it to fit your specific needs.
PS Messages
The PS Messages feature allows you to create a "PS" that will be tagged onto all emails after your signature for all emails sent from your dashboard. You can leave the PS message up indefinitely, or set a specific expiration date.
Newsletters
View all newsletters created on your behalf by Perfect Patients. (Minor edits can be made to the newsletter before it's sent out by contacting our support team.)
Automated Emails and Email Settings
This serves as your ultimate command center, where you can effortlessly monitor, tailor, and manage the emails we send on your behalf. From newsletters to special greetings, you now have unprecedented control and insight into your email communication.
Watch the Automated Emails and Email Settings Video »
Automated Emails »
Tagging
Tags allow you to easily group your subscribers so you can send targeted emails – a great internal marketing strategy that improves patient retention and encourages referrals! You can send emails targeted to women with children. Or seniors. Or massage and acupuncture patients. The possibilities are endless!
---
Website
This is where you can make changes or additions to any of the content appearing on the front-end of your website.
Blog Posts
A blog is included with your Standard and Premium plan service. Twice per month, we'll make a blog post on your behalf. Granted, that same post shows up on hundreds of other websites so it doesn't get the search engine leverage that an original, one-of-a-kind blog post from you would garner.
If you're interested in blogging you can learn the basics of how to create your own unique blog posts.
Pages
If you're a do-it-yourselfer, learn the basics of how to make edits to your pages on your own.
Please note: The HOME page is locked and cannot be edited without contacting support or your DMS (Digital Marketing Specialist) for Premium clients.
Office Hours
You can simply and easily update your office hours.
Please Note: If you have hours for multiple practitioners or multiple services, please contact support or your Website Success Manager (Premium) to update the hours.
Menu
Learn how to add, delete or move pages from your main navigation bar.
Media
The Media Library is where all of your photos and documents are housed.
Blog Comments
When a visitor to your site or a patient makes a comment on a newsletter, blog post or e-learning quiz, you'll receive an email with a link to your dashboard where you will be able to edit, approve or delete the comment as you see fit. It will only be added to your site if you click 'Approve'.
Newsletter PDF
PDF copies of the newsletter are kept here. You can click to download and print out copies for your front desk if you wish.
Please Note: Only minor edits can be made to the monthly newsletter we send out on your behalf.
---
Account
Update or change your method of payment using this safe and secure form. This information goes directly to our Billing person.
---
Additional Features
Top of the page: Request Support Button
Have a question? Need help? Want to reset your PIN#? Couldn't find the answer in the Help Center? Please fill out the form and let us know how we can help and support you.
Bottom of the page: Chat Feature
In the bottom right-hand side of the Dashboard, you will see the Chat Feature. It is live Monday to Friday from 9:30 am to 5:30 pm ET. Feel free to ask a member of the support team your questions in real time.